LA Comic & Sci Fi Convention
Shrine Auditorium Expo Center
Los Angeles, CA
August 21, 2011

I arrived in LA on Saturday, a cool windy day that was just gorgeous. The con was at the Shrine Auditorium, just north of USC and I found a Radisson Motel just south of the Shrine to stay at. It worked out very well, David had to drive right by my hotel, to get to the Shrine Auditorium, so he picked me up.
I

emailed David I had arrived at the hotel and he emailed right back, happy I had good flights - they were on-time and I got there, but going to CA in Coach from Florida is not my favorite thing to do. We emailed a couple of more times - a few last minute details to work out. David promised to come get me at 9 AM, so I could set up before the show opened at 10 AM.
I got up Sunday morning, packed the show bags and was down in the lobby by 8:45, waiting. My phone rang at 8:55. It was David and he said he was one minute away. I assured him I was ready and would be waiting. I rolled the bags out to the sidewalk and he drove up in his grey Prius. He hopped out to open the hatch for me and he almost blinded me with his outfit. Spotless white sneakers, white ducks and an orange and bright blue striped shirt. I had seen the shirt before - under a sweater. David looked very cool; he was dressed for summer.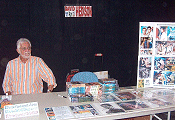 We loaded my roller into the back and my duffel in the front and he drove up the auditorium. They let us park in the back with the dealers. We were the second to arrive. Sharon Farrell was there and the rest of the actors arrived as the day wore on. My Fly book was very popular and sold out right after lunch. I took Internet orders for the rest of the day. We sold Fly DVDs, too. We mostly sold Voyage pictures and Fly pictures, with a few James Bond. Several people told David they only came to see him. A lot of fans wanted to have their pictures taken with him. David signed several Voyage model kits as well.
We did well. David was busy most of the day, with our busiest time right after lunch. Several of the other actors came over to see David - our right neighbor was the son of actor Robert Culp. Joseph was part of the original Fantastic Four movie reunion - he played Doctor Doom. I told him I like him better than Julian McMahon. He liked that. Reb Brown (Captain America) was on our other side. It was a good row along the back wall.

David was the last actor to leave. He promised the promoter would stay until 4 PM and David did. We packed up and David drove me back to my hotel. He was not happy to find out the hotel restaurant was closed on Sunday, so we stopped on the way back, so I could get "some take out" for dinner. David said it was the least he could do after I had worked so hard. He said he couldn't wait to go home, he was tired.
Lots of fans came to see us and they all went home happy. I was very pleased at all the attention my Fly book got. Several people said they were very glad to meet me as well. It almost made the trip out to LA (in coach) worth it. So now it is on to Nashville. More pictures and another con report in October.

Diane Kachmar
August 21, 2011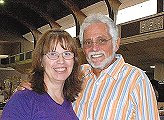 courtesy of Kimberly Rose