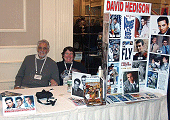 David had informed me that he was traveling to Boston on the Thursday before the con to spend time with some of his late motherís relatives. He had a lot of cousins in Boston he wanted to see again.

So John and I flew in on Friday to check out Davidís table space and get things ready for him. David expected to be out late with his cousins and said we probably would not see him at all that night.

The con met us at the airport to help us get all of Davidís pictures and other items to the show. After we got into the van, we headed across the airport to pick up Dawn Wells from Gilliganís Island. She was very nice and since it took us another hour to get up Route 9 to the con hotel, she kept us entertained with stories about her career and her film school in Idaho. The stop and go had her bag sliding around in the wheel well, so John gallantly held on to her bag the whole way up.

We checked in and decided to go eat. We went down to Molly Maloneís and ending up eating dinner with all the celebrities. There didnít seem to be anyone else in the restaurant Ė the con wasnít open yet. So we ordered our meals and ate with (clockwise around the room) Ė Leslie Nielsen, Richard Kiel, George Steel, Carol Spinney and Bruno Sammartino. I told John heíll never have a dinner like that again. We let them all eat in peace.

We went back up to our hotel room to find the message light flashing. It was David (in the car) in-between relative visits asking me to call his cell and leave our room number and how late we were going to be up. I called his cell and he answered.

David was concerned we were late, he had already tried the hotel earlier and we had not checked in. I told him about Route 9 and the extra pick-up, gave him the room number and how late he could come by. He never did, his relatives brought him home too late, but I appreciated him calling to check on us. He didnít have to do that.



John went back down and worked with Cortlandt Hull of The Witchís Dungeon to get our joint space ready for Saturday. They moved everything in and around until they were satisfied.

We got up early Saturday and went down for the complimentary breakfast buffet.

I really enjoyed the egg whites with spinach and the hash browns with red and green peppers. Two things I donít see on a buffet in Florida.

We took the pictures down to set up Davidís table. About 15 minutes before the show I went back to the room, called David and asked him to come over and sign some items I had been prepaid to bring up for his autograph. He knocked twice and gave me a lovely hug hello.



I gave David his con badge, he signed the items and we went downstairs. We threaded our way through dealers setting up in the hallway. David sat down, got situated, took the markers he wanted out of the bag and very shortly after that, the doors opened for early bird and we started selling pictures. We sold steadily until almost noon, when David took his first break - to stretch and call his wife.

They were waiting for him when he came back and we sold more until about 2 PM. We had all kinds of people, young, old, male and female. I enjoyed the Armenians.

They would usually tell David they knew he was Armenian, because he looked like one of their relatives. Occasionally, they mentioned how they were related to him. One woman dragged her half Armenian (and totally embarrassed) son over to the table.



We had two ladies drive all the way from Mexico City to see David and another woman came up from Louisiana. They asked Voyage questions, Bond questions and Fly questions. We sold Fly at Fifty books.

A guy from The Boston Globe asked David to pose in front of the Fly statue. He couldnít get his camera to work right away and before you could say photo op, a bevy of fans had lined up with their cameras. It was almost a paparazzi moment, but David gamely stayed put amid all those flash bulbs until everyone got their shot and drifted away again.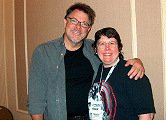 It got quieter after 3:30 PM, but we still sold. In the late afternoon lull, I asked Jonathan Frakes to autograph a Trek book for me. Riker was my favorite Star Trek: The Next Generation actor and it was fun to talk to him for the fourth time in 21 years. Very classy guy. Be sure to watch The Librarian: Curse of the Judas Chalice on TNT December 7. Frakes directed it. John got an autograph from Leslie Nielsen. Forbidden Planet is one of Johnís favorite films.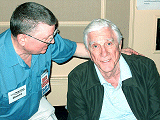 David asked me to make him tea around 4 PM after I found out there was not a Diet Coke to be had in the hotel Ė only Pepsi. Even the bar served Rum and Pepsi. Shudder. So Black tea it was. David praised me for remembering to make the tea the way he likes it. Like his vodka martinis, his tea also has to be a certain way.

David volunteered he was going take a nap. We agreed to meet for dinner at 7:30. It was my job to get the cab there. The dispatcher thought we were the 7:15 party going to the same place, but I got that straightened out. David met us in the lobby. I asked after his nap. He said the phone kept ringing so he didnít take one. He had taken a walk around the hotel. It was a lovely dinner. John and I were celebrating our 22nd wedding anniversary. David gave us a lovely toast and picked out dessert for us. The food was fabulous. We came back stuffed and happy. I kissed David good night and turned in.

Sunday morning David came down a bit early and had his picture taken with the Fly Statue. We will post the pictures as soon as they are developed. We sold more pictures. Dori Martin came by to say hi, after driving 5 hours from PA to see David again. David asked me to fetch him his second lemonade before he went across the hall for a 30 minute Q & A at noon.

I went with him to with the panel, but he didnít need me to. He introduced me as the author of our book and told good stories about the usual subjects, The Fly, The James Bond films and his early days at Fox. I will do a more detailed panel report later. David asked for tea again right before he left at

3:30 PM to catch his plane home to LA.

Bridget had faxed him his boarding pass. She was able to get David his favorite aisle seat, so he went home happy. We spent the night and flew out in the Monday morning. We had a blast working with David, signing Fly books and helping him sell his photos.

Diane Kachmar
11/26/2008